Post by Cedric Von Abendroth on Oct 28, 2017 15:41:25 GMT
[nospaces]
[attr="class","SStabletemp1"]
[attr="class","SSimginfotemp1"]
[attr="class","SSboxestemp1"]
[attr="class","SSbox1temp1"]

150 YEARS


[attr="class","SSbox1temp1"]

MALE


[attr="class","SSbox1temp1"]

HETEROSEXUAL


[break]
[attr="class","SSbox2temp1"]

DRAGON


[attr="class","SSbox2temp1"]

CASTLE STABLE HAND


[attr="class","SSbox2temp1"]

CLIVE STANDEN


[attr="class","SSimg1temp1"]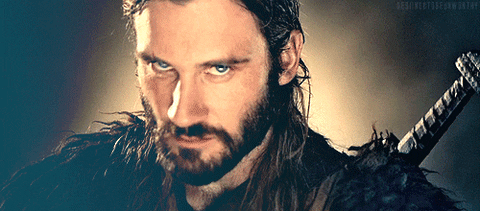 [attr="class","SSsubtitletemp1"]

CEDRIC VON ABENDROTH


[attr="class","SScontainer1temp1"]
[attr="class","SScontainer2temp1"]
[attr="class","SScontent1temp1"]
[attr="class","SSimg2temp1"]
[attr="class","SScontent2temp1"]
Magical Ability:
---
When in his dragon form, Cedric is able to breathe fire. It also keeps his body internally warm while in colder climates.
[break]
[break]
Appearance:
---
Human Form
[break]
His piercing blue eyes dominate his features, often staring with such intensity it may feel as if he is looking into you. Cedric has a strong, masculine face adorned by thick eyebrows and a well-groomed beard that lines his jaw, chin and upper lip. Long brown hair falls somewhat messily around his shoulders or is pulled back in a horse tail. His body is muscled from years of working with horses as well as from the genetics of his true race. Several tattoos and symbols decorate his back and arms, including a tribal dragon on his shoulder. Cedric can often be found wearing his work garb, which is comprised of a white or a tan tunic, riding breeches and boots. In his freetime, his attire takes on a more relaxed look as he trades his breeches for simple pants and prefers a darker colored tunic. He might also be found with a dagger or an ax at his belt while visiting dodgier areas of town.
[break]
[break]
Dragon Form
[break]
In his natural state, Cedric is massive beast. Standing as tall as two warhorses at the shoulder, his long neck and head make him even taller still. His body is covered in hard red scales, except for the webbed sections of his wings which are more similar to bat leather. His reptilian eyes gleam like golden amber, and are as large as salad plates when standing face to face.
[break]
[break]
Personality:
---
Cedric is a man strongly driven by his emotions. As a young dragon, he is an 'act first, think second' kind of character. He thinks very highly of himself and almost always believes he is right. Many might describe him as an introvert, as he tends to keep to himself. This does not excuse him from being hotheaded and stubborn, in certain conversations when being right matters more than a relationship damaged. Cedric takes his work seriously and performs his job well. He prefers to keep everything organized, polished and in its proper place. He is able to work well with others so long as they show him respect, but truthfully he prefers the horses to people. Somewhere buried beneath all of his pain, heartache and questions, one might find a gentle soul. It would take a lot of effort and patience, however, to dig him out.
[break]
[break]
In his free time, Cedric enjoys good food and drink at any of the local taverns. Over the years he has allowed himself to become attracted to a few human females, but very seldomly engages them in anything more than simple conversation. Once or twice he has broken this rule, but as a general guideline he prefers to leave romance to the dogs. During the days he doesn't work, Cedric has been known to disappear from town entirely to climb in the mountains or stroll the forests, in search of the solitude he had known for the larger part of his life. When he finds a place where he is alone, he spends his time in prayer to the gods and goddesses his parents had taught him to worship. It is one of the few ways he still feels connected to his family.
[break]
[break]
History:
---
The early years of Cedric's life were permeated with fear. The War plagued his every day; secrecy dictated his every move. His mother and father fought constantly between the bloodlust to join the ranks to avenge the slaughter of their race and the deep parental drive to protect their young. Some of Cedric's first memories were of the intense, life-devouring flames and the thick, oily black smoke that overtook the skies. He remembered the feel of his mother's rapid heartbeat, his only comfort as he nestled into the small space between her shoulder blades while they flew over the carnage, fleeing persecution and certain death. This was the humans' fault, his father said. His mother blamed all of the races. 'Trust no one' was her motto. To Cedric, whoever held the blame seemed irrelevant. He couldn't understand it. All he knew was they had no where to go; the whole world hated them for what they were. Soon, Cedric would learn to hate them, too.
[break]
[break]
One clear and bitter autumn night, his parents set up camp in the foothills of the mountains. They had been traveling as people for the past several months, disguised as poor peddlers and transporting their young dragon son by cart, hidden beneath a tarp. Whenever the nights were cloudy, they transformed and carried him through the sky. But in the open, they were forced to maintain their human facades. His father pitched the tent and his mother divvied up plates of dried meats and bread, too afraid to cook over a fire. After dinner, the family tucked into their little cloth dwelling for the night, carefully ushering their boy into the space between them. Cedric slept well that night. Despite the cold air outside and the eerie noises that echoed between the forest and the rocky foothills, he felt safe and content.
[break]
[break]
Several hours from dawn, he awoke to a sharp, burning pain in his arm and the gagging sound of his mother's choked scream. A spear pierced the wall of the tent, ran his mother through, and partially embedded itself in his bicep. His eyes met hers just as the light faded out of them. A yawp of terror tore from his throat, and he felt his father spring to his feet. Taking in the sight of his dead wife and wailing son, the man became a beast once more, tearing the tent to shreds. There, at the handle-end of the spear, stood a human man not much bigger than a boy. His leather armor bore the King's insignia. Perhaps he thought he would return with the hide of a dragon and be given a title, but he never got the chance. In an instant, Cedric's father lunged at him, grasping him between his jaws. The man screamed as the dragon bobbed his head, chomping and chewing several times before swallowing his corpse. Without a word, he grabbed his son and bolted into the sky. There were no goodbyes to his mother, no time to mourn, no time for rites. This was the way of the war.
[break]
[break]
Thirty-eight years did not change the face of the world except to bury it under more corpses. That is, until the new King Irmied decided he had had enough. To the man-king, the war had only lasted his lifetime. But to the older races, its ancient blood soaked fields were a longer and harder journey. Nevertheless, a treaty was made, and slowly the fighting ceased. The damage was done however, and a gaping open wound did not easily scar. The world was dark and cold. Even in the light of this new so-called peace, there was still only suffering. For Cedric and his father, it had given them both time to become embittered and darkened towards every horizon. The Dragon Elders had accepted the treaty, which the father and son felt to be a scathing insult to the loss they had suffered. Taking the lives of humans had brought some feeling of vengeance, some minor justice to soothe their indignation. Cedric could not take a human shape for another fifty years, and walking amongst those savages was out of the question. As such, he remained under the care of his father, who taught him the history of the war and the role man had played in it. Against the will of the Elders, they preyed upon the people on the outskirts of the human lands, unwilling to yield to whatever scrap of signed parchment that ignorant race could wave in their faces. The Council called for a stop of their raids, citing the risk of another outbreak of war and carnage. Cedric's father dismissed their threats.
[break]
[break]
The day came when he could dismiss them no more. Cedric returned from a successful hunt, several head of livestock and man dead and clutched tightly within his talons. The cave they called home glistened red with his father's blood, his body had been left slumped like a pile of rubbish against the wall. A single piece of paper, also stained red, lay atop his body. "Executed for Treason in Violation of the Treaty", it read. A flash of rage consumed him, and then vanished. In its place, fear and defeat welled within him, and for the first time in his life Cedric was alone. There was no one left for him. No protector, no friend, no mentor, and no family. The fight in him extinguished, swallowed by anguish and grief and self-pity. Whimpering, he went out into the world against which he had so fiercely fought.
[break]
[break]
The next century was filled with harsh lessons. Forced into a world he despised, Cedric was its captive student. The first several decades he spent surviving on his own. Unable to return to where his father's corpse lay rotting and unable to venture into any human town, he made a home for himself from an abandoned dwarven mine-shaft and fed on whatever unfortunate forest animals he could find. Solitude became his way of life. The treaty had come with its benefits, and without needing to fear for his life, at least he was free to fly... not that it yielded him the socialization he sought. The dragon race had been so severely diminished, never once did he see another of his kind. This lonely lifestyle, filled with hungry nights and many disappointments, left him with much time to dwell in his own thoughts. He became is own best friend, his own worst enemy. And slowly, in the empty spaces in his head, wisdom began to grow.
[break]
[break]
When he came of age, Cedric took his human form, as most dragons did. His father had told him about the power of choice, and the importance of proper decisions. Naturally, with as much time to think as Cedric had had, he was certain of who he wanted to be. He wanted to be strong. He wanted to be powerful. Maybe even fearsome. But the gentleness and bravery of his mother still swam in his memory, and he wanted to resemble both of his parents in their honor. And so he did. As he transformed, his mother's voice came back to him in a thought so clear it almost shook him. 'Trust no one'. In that moment, he knew what his life would warrant. No one must ever know he was a dragon.
[break]
[break]
Donning his father's old clothes he had salvaged from the cave, Cedric trekked down his new path in life. He found a road, which he followed tirelessly towards the kingdom. He didn't really know what he was doing; all he knew was he had to go forward. He met people along the way, but he kept all of his interactions brief. He worked when he needed money. He slept in stables when he needed to rest. And what he saw sparked curiosity into the young dragon's mind. Races were coexisting, even with the humans. Many still held their prejudices, and many still told stories of what the war had taken from them. But they coexisted. It made him question who and what was right and wrong anymore. Maybe his mother had been right: it was everyone's fault. But the humans he met behaved as if they had no blame; it took Cedric a while to realize why. The warring generation before the treaty was old. This was their offspring, who had only ever known a life without war. How
lucky
they were, the fools. Ignorance really was bliss.
[break]
[break]
When he finally reached the kingdom, Cedric was again met with a wake-up call that flew in the face of his age. King Irmied, the hailed hero who had drafted the treaty, was an old and dying man. To Cedric, the war still felt as if it had happened a month prior. But to these creatures, an entire lifetime was nearing its end. He took up work in the king's stables, caring for the needs of his horses. In time he rose through what small ranks could be found in a stable, but never accepted the position of stablemaster. He wanted freedom that came with anonymity, even if it meant serving a superior lesser-able to the job than himself. Cedric served through the reign of Irmied and the generations that followed, simply existing through life and watching the humans change by the season.
[break]
[break]
What did Cedric want in life? He spent all his days in service trying to figure that out. Was there a purpose for him, out there, somewhere? As the treaty celebrated its hundredth anniversary and its stability began to shake, Cedric wondered if there would be another war. Maybe that was his purpose... but whom would he side with now? He had lived among the people, some of them decent beings, others despicable creatures. Did he want vengeance against them, who had killed his mother? Or would he rather pursue his own kind, the Dragon Elders, who had murdered his father? Did he even want to fight? So many questions swarmed in his head, as the shifting political field reminded him so much of the taste of blood... Cedric would have to choose a side, and soon.
[break]
[break]
Miscellaneous:
---
Nickname:
"Ced" to his friends... if and when he has friends...
[break]
[break]
AKA:
"Abendroth" to superiors and coworkers, or just "Cedric"
[break]
[break]
When he is in trouble:
"ABENDROTH!"
[break]
[break]
Residence:
[break]
Cedric lives in his own servant's hut near the stable.
[break]
[break]
Relationships:
[break]
With his trust issues, relationships are a bit of a problem. He has been known to flirt from time to time, and may even have been intimate with a few girls. But "relationship" just isn't his expertise, unless he meets the right woman.
[break]
[break]
Pets:
[break]
He has a black stallion that he keeps in a pen beside his quarters, separate from the king's horses.
[break]
[break]
Weapons:
[break]
Cedric owns a bootknife, a dagger and an ax. He'll often select one or a pair of them when traveling to sketchier parts of the village, but his skill in wielding them is purely novice as he has no formal training. His preferred weapons are of course the ones he must keep hidden: his teeth and claws.
[break]
[break]
Desires:
[break]
He would love nothing more than to meet one of his own kind, outside of the council. He has never laid eyes on another dragon other than his parents.
[break]
[break]
Theme Song:
The Sound of Silence (link)
[attr="class","SSboxestemp1"]
[attr="class","SSbox3temp1"]

ALASKA


[attr="class","SSbox3temp1"]

OOC Notes


[attr="class","SSbox3temp1"]

PROBOARDS AD


[attr="class","trinCredits"]TABLE BY
TRINITY
@ ADOXOGRAPHY
[newclass=".SStabletemp1"]width:480px;[/newclass]
[newclass=".SSimg1temp1"]width:480px;margin-bottom:-5px;[/newclass]
[newclass=".SSimg2temp1"]width:200px;float:left;margin-right:8px;[/newclass]
[newclass=".SSimginfotemp1"]position:absolute;width:480px;height:150px;padding-top:100px;opacity:0;-webkit-transition-duration: 1s;transition-duration: 1s;-moz-transition-duration: 1s;[/newclass]
[newclass=".SSimginfotemp1:hover"]opacity:1;[/newclass]
[newclass=".SSsubtitletemp1"]text-align:center;background-color:#8FC7BA;padding:20px;line-height:8px;text-transform:uppercase;font-family:arial;color:#ffffff;font-size:8px;[/newclass]
[newclass=".SScontainer1temp1"]background-color:#FFF;padding:4px 4px 8px 4px;[/newclass]
[newclass=".SScontainer2temp1"]margin:8px;border:8px solid #dadada;[/newclass]
[newclass=".SScontent1temp1"]background-color:#ffffff;text-align:justify;padding:8px;font:9px arial;color:#000000;[/newclass]
[newclass=".SScontent2temp1"]height:300px;overflow:auto;font-size:10px;line-height:11px;[/newclass]
[newclass=".SSboxestemp1 div"]font-size:8px;width:133px;padding:8px;background-color:#95BCBC;color:#fff;font-family:arial;text-transform:uppercase;margin:2px;display:inline-block;[/newclass]
[newclass=".SSbox1temp1"]margin-right:10px;[/newclass]
[newclass=".SSbox2temp1"]margin-right:10px;margin-top:10px;[/newclass]
[newclass=".SSbox3temp1"]margin-bottom:8px;margin-top:16px;[/newclass]
[newclass=".trinCredits"]font-family:arial narrow;font-size:10px;font-style:italic;letter-spacing:1px;text-align:center;[/newclass]